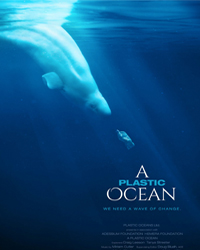 Project Details
Described by Sr. David Attenborough as "one of the most important films of our time."
A Plastic Ocean is a new feature-length adventure documentary that brings to light the consequences of our global disposable lifestyle. We thought we could use plastic once and throw it away with negligible impact to humans and animals. That turns out to be untrue.

In A Plastic Ocean, an international team of adventurers, researchers, and world-saving heroes on an expedition around the globe that delves into the unknown lurking beneath our seemingly pristine and remote waters.

The results will astound viewers–just as it did our adventurers–who captured never-before-seen images of marine life, plastic pollution, and its ultimate consequences for human health.

During its four-year production period, A Plastic Ocean was filmed in 20 locations around the world in beautiful and chilling detail to document the global effects of plastic pollution–and introduce workable technology and policy solutions that can, if implemented in time, change things for the better.


Plastic Oceans Ltd. is a Hong Kong-based charitable organisation that is dedicated to protecting and preserving the environment, with a special focus on plastics and our oceans. The organisation works to educate the public about the need for change and persuade industry to take responsibility in the manufacturing/disposal processes.
Craig Leeson: Executive Producer
Adam Leipzig: Producer
Sonjia Norman: Executive Producer
Jo Ruxton: Producer
Music by: Miriam Cutler
Chiu Yeung Chow: Director of Photography, Hong Kong
Michael Pitts: Director of Photography
Film Editing: Mindy Elliott
Editorial Consultant: Doug Blush
May 2, 2017
May 2, 2017
April 15, 2017
April 15, 2017
March 20, 2017
February 12, 2017
January 21, 2017
January 16, 2017
January 14, 2017
January 12, 2017
January 10, 2017
January 10, 2017
January 8, 2017
November 12, 2016
October 2, 2016