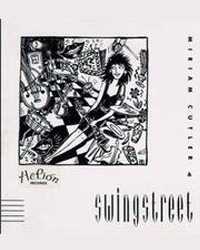 Project Details
Released
1988
Production Company
Live working band led by Miriam Cuter for over 10 years
Project Details
Miriam Cutler & Swingstreet was a versatile, good-time band geared towards swing, classic jazz, blues, and originals. They delivered hot music in the spirit of fun and audience involvement like the early bands of Louis Jordan and Cab Calloway. As Jazz critic Leonard Feather put it: "...Swingstreet is remarkable: Its material, much of which seemed epheral decades ago, is presented with an antic innocence that suggests we have been taken back through a time tunnel."
Swingstreet got its start as the first house band at the legendary VINE ST. BAR & GRILL in Hollywood during it's heyday in the 1980's. In 1988, Miriam released an album of some of the bands most popular tunes, plus some originals, re-imagined in the studio.
The live lineup included three part female vocal harmonies, clarinet, electric viola, hot guitar rhythms, upright bass, and drums, although there were been some additional guest performances on the album.
Originally Released by Helion Records
Produced by Miriam Cutler
Engineered by Miriam Cutler and Mark Shifman
Mastered at CMS Digital by Robert Vosgian
Mixed by Miriam Cutler and Grant Headly
"LA based Miriam Cutler & Swingstreet (Helion MCP 101), three voice delivery of hip lylrics to swing era style combo backing, will have you rolling up the rug for some jitterbug action. The singing leader's sizzling clarinet is joined by Jimbo Ross's viola, Adam Levine's guitar, the bass of Joel di Bartolo, Roger La Rocque at the drums, and other on saxophone, accordion, backround vocals, and barks. It's no wonder that this live wire group held down the gig as the house band of Hollywood's Vine St. Bar & Grill for a couple years recently. They are a hot property." -- JAZZ Times January 1990
"This CD has everything going for it: imagination and musicianship. It is one of the most "musical" CDs I've ever heard. In this stimulating collection however, emotion has tempered intellict to produce a most rewarding result. The music is warm and witty; swings consistently; is wholly uncompromising (in the happiest way); and though at times extraordinarily complex, achieves an ease, a spontaneity, a looseness that is "challenging". Swingstree shows as much originality as care in its preparation. There is no question that this young vocalist is prepared to throw away the book about jazz singing and approach her material with a distinctive and unique styling. She is refreshingly free of influences both from other singers and from instruments. Ms. Miriam Cutler is the most interesting vocalist to appear in some time, and her uniquness and her unqulified confidence in her direction suggest that she will be seriously listened to." -- KRML Radio Album Review
#5 Weekly Jazz Charts/ LA Weekly compiled by Julie Martinez, December 1988
Time Tunnel Surfaces at Vine Street Grill
'We don't think these songs are old-fashioned' said Miriam Cutler at one point Wednesday evening at the Vine Street Bar and Grill. She and her vocal and instrumental group, Swingstreet, had just boogied their way through Louis Jordan's Choo CHoo Ch'Boogie. Her comment was made innocently and with apparent conviction. In this respect, Swingstreet is remarkable. Its material, much of which seemed ephemeral decades ago, is presented with an antic innocence that suggests we have been taken back through a time tunnel. -- Leonard Feather, Calendar/LA Times
"One of the hottest new bands on the L.A. scene. They play the kind of music that makes you want to clap your hands, tap your feet, and feel good inside!" -- Huell Hauser, CBS TV News