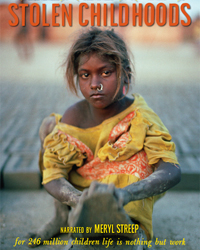 Project Details
Released
2005
Production Company
Galen Films/Directed by Len Morris
Visit Film Website
Project Details
Narrated by Meryl Streep, STOLEN CHILDHOODS is a documentary feature film about the growing plague of child labor that engulfs the lives of 246 million children today. In extraordinary footage of their working conditions, child slaves, bonded laborers and laboring poor children from eight countries (including the US) tell their own stories . . . children forced to pick pesticide- laden tobacco, coffee and vegetables, kids chained to looms, boys kidnapped to work on fishing platforms at sea, girls trafficked for prostitution, children scavenging at dumps and enslaved at rock quarries and brick kilns. All these children tell their stories in their own words.It is a shocking, hopeful and energizing film and a call to action.
Featured on the Oprah Winfrey Show, and the subject of a special report on ABC's Nightline, and on CNN's NewsNight with Aaron Brown. Narrated by Meryl Streep, STOLEN CHILDHOODS was made over seven years by Producer-Director, Len Morris, and co-director-cinematographer, Robin Romano. The film was shot in eight countries and tells the stories of laboring children in their own words. Worldwide, the UN estimates that 246 million children work full time rather than attend school.
Galen Films
Executive Producer, Barbara Broccoli
Produced and Directed by Len Morris
Co-Directed by U. Roberto Romano
Co-Produced by Petra Lent
Edited by Sara Nesson
Original Score by Miriam Cutler
Stolen Childhoods opened theatrically at the Quad Cinema in New York City.
It has played around the country in LA, Chicago, Boston, and other cities.
Screened at the Artivist Film Festival, United Nations Association Film Festival, and the Amnesty International "On Campus" Film Festivals, Unicef HQ, as well as many other Human Rights groups.
Syndicated to all PBS stations by South Carolina Public Television.
Theatrical distribution by Balcony Releasing and opened nationwide in selected theatres.
"The message of Stolen Childhoods is one that cannot wait." ~ Meryl Streep
"'Stolen Childhoods' is a critically important work which shines a long-overdue spotlight on the pernicious and ever-present reality of child labor. It reminds us of all that still needs to be done and powerfully inspires us to take up that task."
~ Senator Christopher J. Dodd. (D-CT)