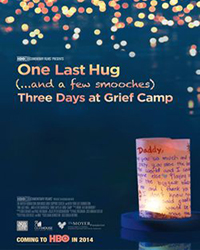 Project Details
Released
April 2014
Production Company
HBO Films/GDH Productions/Vermillion Films/Directed by Irene Taylor Brodsky
Project Details
One in 7 American children will experience the death of a loved one before the age of 20. Sadly, few are prepared to deal with the grief that follows.
From profound sadness and heartbreak to confusion and anger, a child's grief can be devastating. It can also be lonely. At a time in life when fitting in is important, grief can make kids feel different and isolated from their peers. Fortunately, there's a place where grieving children can go to be understood.
ONE LAST HUG (…and a few smooches) Three Days at Grief Camp is an unflinching documentary short film set at Camp Erin – a sleep-over summer camp where grieving children of all ethnicities find comfort in one another to deal with their pain. Under the guidance of grief professionals, kids learn that their feelings are normal – and that by talking about them they can begin to heal. With unprecedented access, ONE LAST HUG illuminates the effects of death and grief on children. Its inspiring and emotional journey is intimate, cathartic, and testament to the healing power of friendship and support.
Winner of the 2014 Emmy for Outstanding Children's Programming, ONE LAST HUG (...and a few smooches) screened on HBO.


DIRECTED BY
Irene Taylor Brodsky
PRODUCED BY
Greg DeHart

PRODUCED AND EDITED BY
Paul Freedman

EXECUTIVE PRODUCER
Sheila Nevins

SUPERVISING PRODUCER
Sara Bernstein

DIRECTOR OF PHOTOGRAPHY
Peter Richardson

ORIGINAL MUSICY BY
Miriam Cutler

EXECUTIVE IN CHARGE OF PRODUCTION
Paul Dzilvelis

SUPERVISING PRODUCER
Sara Bernstein
ASSOCIATE PRODUCERS
Deborah Carr
Mary Courtney
Sophie Harris
Lauren Schneider
Andreas Wood

WINNER - 2014 Primetime Emmy, Outstanding Children's Programming
Best Short Film, Oregon International Film Festival
Audience Award, Hampton International Film Festival