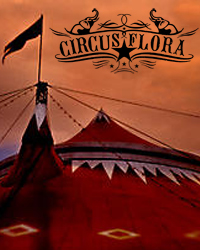 Project Details
Released
2003
Production Company
The Circus Arts Foundation of Missouri
Project Details
St. Louis is fortunate to be one of only four cities in the country with a circus of its very own. Each June, since 1986, Circus Flora has pitched the big red top tent on the Powell Symphony Hall parking lot to offer St. Louisans an amazing production of world class European style one ring circus performances. Miriam has been resident composer since 1988, writing almost all of original music for live band which performs at the shows.
Year after year, Circus Flora's momentum continues to grow. The 2011 season brought more than 30,000 fans to the big top across the 2 and a half week run. In 1997, Circus Flora's big top tent was the first ever to be erected at the Kennedy Center in Washington D.C; and in 2002 , the tent was raised at The Lincoln Center Festival in New York City. Additionally, the Circus has made an unprecedented six appearances at the prestigious Sppoleto Festival USA in Charleston, South Carolina, and five appearances on the Island of Nantucket.
The circus has released 2 albums of Miriam's music.
David Balding, Artistic Director & Producer
Cecil MacKinnon, Theater Director/Featured Performer - Yo Yo the Narrator
Alexandre Pavlata, The Flying Wallendas, The St. Louis Arches, Giovanni Zoppe - Featured Performers
Original Score by Miriam Cutler
Charleston Post and Courier - "Circus Flora is Back at the Spoleto Festival USA 2003
"...When you go, try and pay attention to the music, which is original and composed by Miriam Cutler, about whom I know nothing except that she has concocted hours and hours of tuneful, atmospheric things that sound like nobody else's. What a pleasure to sit through a circus and not hear 'There's No Business Like Show Business' or any of the other pieces you've heard all too many times before. No, Ms. Cutler's music is just perfect for the job at hand, and you can buy a CD of it and take it home with you."