Straightlaced
How Gender's Got Us All Tied Up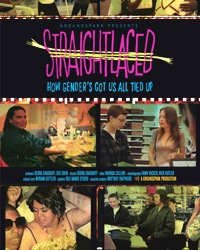 Project Details
Released
2009
Production Company
Groundspark/Directed by Debra Chasnoff
Visit Film Website
Project Details
GroundSpark premiered this latest film in The Respect For All Project on January 14, 2009. Filmed in the same intimate style as That's a Family! and Let's Get Real (which Miriam also scored), the heart of STRAIGHTLACED is candid interviews with more than 50 teens form diverse backgrounds.
Straightlaced provides a way into a much-needed dialogue about gender roles and homophobia among teenagers. With refreshing honesty, the diverse youth in the film open up about the pressure to conform to rigid gender role expectations. It will be used in schools all over the country and will be shown at film festivals.
Visit STRAIGHTLACED on Facebook.
Produced by Debra Chasnoff & Sue Chen
Directed by Debra Chasnoff
Edited by Rhonda Collins
Graphic Design Idle Hands Studio
Original Score by Miriam Cutler
Winner, CINE Golden Eagle Award, 2009
Winner, Best Feature Documentary, The Baltimore Women's Film Festival
Winner, Audience Award, 2009 Western Psychological Association Film Festival

"As in Chasnoff's previous recent works, the film is remarkable for the candor with which its subjects speak – in this case, teens discussing their frustrations with gender roles and stereotypes."
 ~ The San Francisco Chronicle