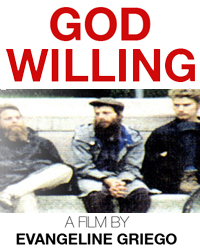 Project Details
Released
2010
Production Company
ITVS/About Time Productions/Directed by Evangeline Griego
Visit Film Website
Project Details
What would you do if faith took your child away? GOD WILLING is a powerful exploration of a 35-year-old American religious sect known as "The Church" or "The Brotherhood." It also outlines the struggles of families whose children turn away from them to become "Brothers" and "Sisters" in the group, renouncing their past lives and the world — often without ever turning back.
Visit GOD WILLING on Facebook.
ITVS/About Time Productions
Produced, Directed and Written by EVANGELINE GRIEGO
Co-Produced by RENEE TAJIMA-PENA
Edited by NATALIA ALMADA, MONIQUE ZAVISTOVSKI
Original Score by MIRIAM CUTLER and BRONWEN JONES
Premiered 2010 Hot Springs Documentary Film Festival
PBS Broadcast 2011
"What I Learned About Cults While Making God Willing" by director Evangeline Griego for Huffington Post

PAJIBA - "God Willing Review: Religious Wackjobs, Man. What Are They Good For?" ~ Dustin Rowles

. . . "God Willing" was the best film of the day for me. In this film you have a front row seat of what's going down with the thirty-five year old cult known as "The Church of the Brotherhood." The director is Evangeline Griego, the aunt of a former Brotherhood member. She goes far beyond the call of duty for this footage. Any parent or family member would be deeply touched. Griego was greeted with a super-warm reception as she was introduced. This was the world debut of "God Willing." Also present at this debut were parents of former members. When someone joins this cult, you basically never see any loved ones again, unless the member chooses to escape or questions enough to be kicked out. It was a very intense night!