Genius of a Place
COMING SOON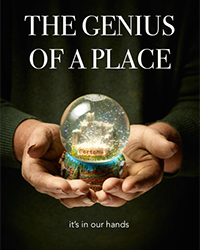 Project Details
Released
2015
Production Company
Produced and Directed by Sarah Marder & OLO Creative Farm, Milan, Italy
Project Details
THE GENIUS OF A PLACE is a feature-length documentary about sustainable development, told in accessible, personal, palpable terms.
It's the story of a woman who fell in love with a place, was saddened to see it change and decided to ask others what they thought.
Through the musings of many people over their beloved place, the film encourages viewers to take care of their own little corner of the world, before it changes beyond recognition or repair.
THE GENIUS OF A PLACE shows what happens when 400,000 tourists with cameras, credit cards and cravings for "la dolce vita" start flocking each year to Cortona, an ancient town in Tuscany with just over 1,500 inhabitants in its historic center.
The town was "put on the map" by the book, then Hollywood film, "Under the Tuscan Sun".
The overarching message of the film is that we must cultivate and safeguard the "genius" of our own patch of the earth.
Ideally starting from our very own communities.
WARNING: This film will change the way you view development.
Produced and Directed by Sarah Marder & OLO Creative Farm, Milan, Italy
Original Score by Miriam Cutler