One Bad Cat
The Reverend Albert Wagner Story
Project Details
Narrated by Delroy Lindo, ONE BAD CAT is the story of Reverend Albert Wagner and his continuous journey for self-redemption from his past exploits. Through the use of intimate verite scenes and candid interviews of Albert, his family members, and art patrons, the documentary explores whether a driving passion coupled with a divine intervention can really redeem a man with many past indiscretions. Further, the film explores Albert's past of growing up in a segregated south and how those experiences shape his often controversial messages and "lessons" on race and religion.
OVATION/Tesserac Films
Produced, Written, Directed, Edited by Thomas G. Miller
Produced by Nancy Dickenson
Co-Produced, Co-Edited, Co-Written by M.R. Stiff
Co-Edited by Lillian E. Benson, ACE
Original Score by Miriam Cutler
Narrated by Delroy Lindo
Broadcast Premier OVATION 2011
Winner, Best Documentary Santa Barbara Film Festival
Winner, Audience Award/32nd Cleveland International Film Festival/The Cleveland Magazine Roxanne T. Mueller Award for Best Film.
Screened, IFC Center NYC, DOCUWEEK LA
Screened at many film festivals, including HOT SPRINGS Documentary Film Festival

Distributed by VANGUARD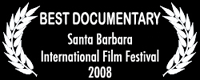 "A bowling ball's black kitty face busting out of a white bag: Does this beguilingly simple sculpture evoke transcendence—a message that the least among us can define his own destiny—or unconsciously expose a psyche-deep racial inferiority complex? In profiling the late African-American outsider artist Reverend Albert Wagner, who picked up a brush at age 50 and began to atone obsessively for past sins, filmmaker Thomas G. Miller answers "maybe" to both in this compellingly ambivalent portrait, which explores a taboo subject (racial divides in the viewing and collecting of art) with irresolvable complexity." ~ By Jim Ridley, Village Voice