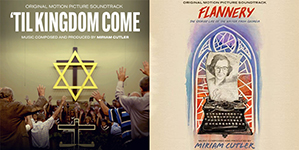 Both of Miriam Cutler's incredible documentary soundtracks were given high marks.
Buysoundtrax.com's Randall D. Larson gave favorable reviews for composer Miriam Cutler's documentary soundtracks for both 'TIL KINGDOM COME and FLANNERY – both now available digitally on Perseverance Records.
Of 'TIL KINGDOM COME Larson said, "Two recent documentary scores by three-time Emmy nominated composer Miriam Cutler (RBG, LOVE, GILDA), who has an extensive background in scoring for independent film & TV projects (as well as two circuses) are available from Perseverance. The first is Emmy Award-winning Israeli documentarian Maya Zinshtein's film 'TIL KINGDOM COME, an in-depth look into the controversial bond between Evangelical Christianity and the Jewish State in a story of faith, power, and money. Cutler integrates a dramatic piano with a variety of string patterns to convey the doc's concerns. It's a relatively quiet score but its sparse instrumentation retains a powerful resonance that fits the environment of this documentary as well as suggesting the issues that are involved in the filmmaker's concern. Cutler "is known for seeking out documentary projects that speak to her values," as an article in Screen International (Oct. 2021) quoted her. "Directors just need to talk about the emotional purpose of the music, and I can translate that," and the results are particularly persuasive musical scores that capture the issues as well as the images and voices of scores like this. KINGDOM COME makes a quite provocative musical listening experience on its own, even apart from the film's issues of concern."
Larson went on to review, "The second album is FLANNERY, which uses animations, never-before-seen archival footage, and compelling music to illustrate this biography of the brilliant, young writer from Georgia, USA. Flannery O'Connor's story is brought to life with Mary Steenburgen's voice and a variety of personalities who share their insights about O'Connor's violent, redemptive work, while musicians – Lucinda Williams and Bruce Springsteen – impart their Flannery-inspired music in this feature-length, NEH-funded film. Cutler's music is warmly resonant, using acoustic instruments to reflect the period(s) in which Flannery wrote, favoring piano and strings. "Nineteen Thirty-Nine," for example, is a splendid piano cue that will likely engage your foot to tapping; but Cutler soon immerses the cue in a number of other period-reflective elements from pizzicato strings and organ to fiddle and guitar over hints of choir. It's nicely bookended with "Nineteen Fifty-Four Love Story" later in the album, while "James Baldwin/Racism" shares its pianistic and organ treatment in its first half, moving into blues territory in its second. Other cues, like "Father," "Wise Blood," "Painting/Perverts," and "To Lourdes" are more subdued and introspective, offering moving sonic treatments via gentle configurations. The 9-minute "Surrounded By Waves" opens as a terrific period jazz piece, then slows down using the same ensemble to offer more reflective resonances. It's a thoroughly engaging track and is a delight to listen to. "Critics/The First Real Story" takes us through a gentle piano riff into an engaging string choir, both elements converging by the track's end. "She Always Worked" concludes the score with a powerful string grouping before slowing to reprise the main theme, while a bonus track concludes the album with an engaging cello variant of the opening track, "Meet Flannery O'Connor." Most of this album's tracks are lengthy enough to accommodate a welcome progression and development into numerous flavorings and departures, and FLANNERY is an especially meaningful and musical journey. Both albums are available from Amazon (Flannery, Kingdom) and Apple Records (Flannery, Kingdom)."
Both reviews, as well as Larson's reviews for several other soundtracks, can be found here: http://www.buysoundtrax.com/larsons_soundtrax-1-28-22.html